Everyday cleaning items can expose us to potentially hazardous substances. Our homes have so many man-made substances that contain all sorts of chemicals, nitrites, poisons,metals, and carcinogens that are harmful to our environment and our bodies. If I gave you a list of common items,  you would be shocked.
To start cleaning naturally, let's go over some basic ingredients, that are generally multipurpose.
Vinegar– disinfects, deodorizes – great window cleaner , but also great to add in your laundry for extra deodorizing those smelly uniforms Every few months, I  pour 2 cups of vinegar into my washer and run an empty cycle just to tackle any soap build up in the washing machine.
Lemon Juice– dissolves soap scum, water deposits, cleans brass & copper nicely, and treats stains because it has a natural bleaching quality. Can mix with salt for scouring power.
Baking Soda– Non-abrasive cleaner, deodorizes, also has whitening properties. To eliminate odors, Place an opened box in your fridge or freezer, sprinkle in your trash cans, laundry, shoes, and on your carpet prior to vacuuming.
While these 3 items are the most common, with a lot of uses, there are other natural ingredients you can use. I would advise testing any area before using. As natural products, depending on concentration, can vary.
Multipurpose cleaner/ spray– Fill a spray bottle halfway with white vinegar, add several squirts of natural dish soap (2-3 Tbs) and then fill the rest with water and gently shake. So while the vinegar disinfects,deodorizes and fights mold & mildew, the natural dish soap removes soap build up & dirt. It's generally safe for most surfaces, but 'd advise testing a small area first.
You can use as a daily shower spray, although I've heard that Vinegar breaks down grout over time, so if you have a tile shower, use weekly instead of daily- but be mindful of your grout condition. Do not use on granite or Marble. Add some lemon juice to help with soap scum.
It's a great pre-treatment for food stains, grease stains, and dirt on your clothing. It's best to always spray stains prior to putting in the hamper, and then again prior to washing.
Lemon Hardwood Polish– Mix 1 cup olive oil with 1/2 cup of lemon juice.
Natural toothpaste– Mix baking soda with peppermint essential oils and a little water, to make a fresh , whitening tooth paste.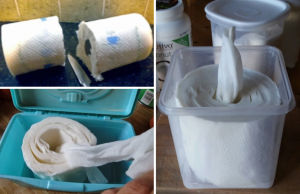 Disinfecting Wipes– Mix 1 cup water, 2 tbs vinegar, 1/2 tbs natural dish soap,and 8-10 drops of lemon essential oils. Cut a paper towel in half and place one half in a container that seals. Pour the mixture over the paper towels, and let it sit a few minutes. Then pull cardboard center out and pull wipes from the center as you use them. You can make your own cloth wipes, from old sheets, t-shirts,blankets, or other fabric, instead of paper towels.